---
Equity.
Resilience.
Transformation.
Aryeh designs and facilitates transformative processes that build the power of individuals, communities, and organizations to address complex challenges and create a world rooted in love, justice, and belonging.
"Another world is not only possible, she is on her way.
On a quiet day, I can hear her breathing."
– Arundhati Roy
Services
---
Facilitation and Training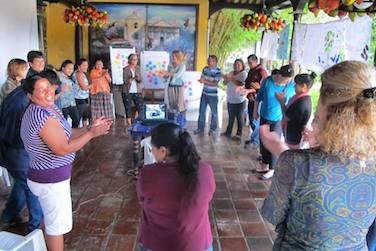 Curriculum and Program Design
Life and Resilience Coaching
Aryeh has 20 years of facilitation and training experience with expertise in popular education, equity, systems thinking, creative leadership, organizational development, arts-based activism, trauma resilience, Theatre of the Oppressed, and The Work that Reconnects. She has led hundreds of workshops and training programs around the world with communities, universities, and grassroots organizations to generate creative solutions and take action for a more just, beautiful, and regenerative world.
Aryeh designs curriculum and learning spaces that are culturally responsive, participatory, arts-based, and dynamic. Her methodology draws from the wisdom and lived experience of the participants, uses a variety of learning modalities, centers equity and systemic realities, cultivates creativity, engages in critical inquiry and cycles of "praxis" (action and reflection), and builds authentic relationships amongst participants. She also designs powerful and interactive conferences, cultural events, and creative advocacy projects.
Aryeh provides insight, tools and practices that will support clients to live thriving lives, connect deeply to purpose, cultivate resilience, and embody their leadership with more integrity, awareness, and skill. Her integral coaching methodology includes compassionate assessment of current ways of being, generative questioning, metaphor, somatics, and developmental practices that support people and teams to inhabit new ways of being, doing, and relating.


About Me
---
"You don't choose the times you live in,
but you do choose who you want to be."
— Grace Lee Boggs
How do we shape change?
How do we create beauty and justice at every scale?
Who do we want to be?
What legacy do we want to leave for future generations?
How do we come into right relationship?
These questions drive me and my work. I believe that we need to embody and practice the future we want to create NOW. I bring an integral and somatic approach to my coaching, facilitation, and training programs so that we can inhabit our deepest potential as individuals, communities, and systems. With creative and participatory tools, I sow seeds of possibility, embodiment, resilience, connection, and justice.
I am a life-long learner, global traveler, dancer, theater artist, poet, community organizer, and gardener.
Photo credits: Life Escobar, Creative Action Institute
See what they're saying.
Read testimonies from Aryeh's colleagues and clients.
"Aryeh is a natural-born organizer, with political savvy and audacity. Aryeh is outstanding for her commitment to serving communities with culturally appropriate tools for peace, justice, self-reliance and self-respect. She combines love for life and strength of character with keen sensitivity to the potential wellsprings of resilience in a social system. She is eloquent, poised, and highly inventive, finding ever-fresh ways to enlist cooperation, and unlock the creativity of people at the grassroots level. She has the versatility of a true artist, skilled in engaging people through story, drama, movement, and poetry."
- Joanna Macy

"Aryeh is a brilliant woman. I have watched her develop the most exciting community program that I have seen in my twenty-five years of community work. The popular theater that she has created and that the members of this community have presented hundreds of times over these past years has become the public face of our organization to the neighborhood and to the region --- a face that shows the strength, vibrancy and beauty of this community of immigrants. It is also the program that dives deepest into the souls of the people who live here, safely supporting them to face their pain, speak their truths, heal themselves and enable others to do the same in a spirit of mutual connection and support. This is powerful work."
- Rebecca Bauen
"I have turned to Aryeh for creative/career/leadership coaching now going on three years. I was riddled with a sense of powerlessness and self-doubt over my career going into our first sessions, and she helped me tap into my curiosity and passion. By working with Aryeh, I have developed creativity and resilience practices that have earned me incredible positions and given me the courage to take risks I never thought possible. She is a deep listener who picks up on every echo of creative ambition, no matter how stifled. And her unique blend of somatic awareness and integral coaching is something that you will not find anywhere else. I recommend Aryeh to literally everyone I know who is trying to creatively tackle their career challenges."
- Shokai Sinclair

"Aryeh's loving and thoughtful integral coaching has been instrumental in pulling me out of a deep funk. She helped me learn to take an honest look at my ingrained patterns with compassion, to let go where I can, and to celebrate life in small ways each day. She avoids simplistic methods and instead uses carefully personalized daily practices to help you cultivate mindfulness in times of pain as well as joy. I would recommend her to anyone who could use some support to hit the reset button and transform any places you are feeling stuck. Aryeh is a truly gifted coach and she might just change your life."
- Yael Falicov

"Ancestral Legacies invited me to explore my ancestors and lineage in a way I had never done before. It shed light on my life and the ways I want to show up in this world. I am on a new journey in the wake of what has opened through this workshop series and I am forever grateful."
- Andrea Cortes-Juarbe

"The retreat, facilitated by Amber and Aryeh, was an amazing experience of sharing our gifts, aligning our values, finding community, recognizing and acknowledging each other's life experience and holding space for each of our healing journeys. The retreat was also a great opportunity to become acquainted with our vision, mission and values. I thought it was an equal balance of introspection and sharing/community building."
- Community Well Health Practitioner

Free consultation
Contact me for a half-hour free consultation if you would like to inquire about my design, coaching, facilitation or training services. I look forward to connecting with you!
---
Current Workshops and Events
---
Check out Aryeh's current workshop and event offerings.
---
---
---
Contact
---
Contact me for a half-hour free consultation if you would like to inquire about my design, coaching, facilitation or training services.
I look forward to connecting with you!
---