'No invader has ever conquered the heart of Poland, that spirit which is the inheritance of sons and daughters, the private passion of families and the ancient, unbreakable tie to all those who came before.' – James A. Michener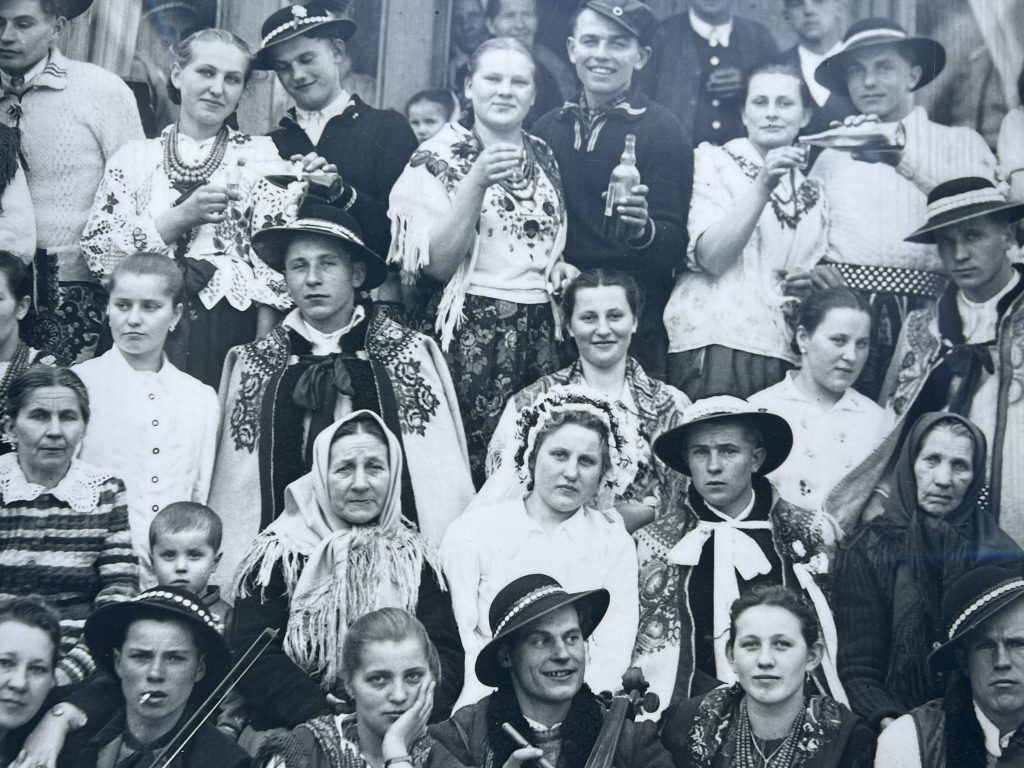 First, a brief and very simple history of Poland. Since its inception in 966, when Duke Mieszko united multi-ethnic and pagan Slavic tribes, Poland has been a land of shifting borders, invasions, partitions, occupations, uprisings and rebellions.  Almost from its origins, Poland was a safe haven and refuge for exiled Jews across Europe, where nearly three-fourths of the Jewish population migrated and mostly thrived (that is, of course, until 1939).  Poland and Lithuania became a Commonwealth. Amidst centuries of war and conquest, Polish civilization, literature, arts and science flourished and the Polish astronomer Copernicus placed the Sun at the center of our universe. There was a Federal Monarchy in which Kings were elected and laws were made by consensus.  
In 1795, Russia, Prussia and Austria attacked Poland from every angle and literally erased Poland from the map. For 123 years, it was illegal to speak Polish and all three colonizers sought to abolish Polish culture. Through underground schools, exiled artists, and the music of Chopin, the struggle to maintain Polish identity during Partition became a formative force of Polish spirit and pride. While resistance movements proliferated, life was insufferable and nearly three millions of Poles immigrated in the late 1800's, which is when my great-grandparents left their homeland to come to the US.
Poland regained its Independence after World War I but their freedom was short-lived. World War II began in 1939 with a coordinated attack on Poland by Hitler from the West and Stalin from the East, again eliminating Poland from the map. While the Poles fiercely resisted, the Nazis demolished the country, murdering over five million people, including Jews, gypsies, queers and intellectuals in their network of death camps across the land. Once Germany crumbled, Soviet troops swooped in to occupy the rubble of Poland under repressive Stalinist rule for forty years until the workers union, Solidarity, won an overwhelming victory in 1989. Poland has since joined NATO in 1999, the EU in 2004 and continues to reinvent itself yet again.
What I have discovered and observed in my short time here, is that Polish people are resilient, strong, courageous, warm, hospitable and will never admit defeat.   I love the Polish saying, 'Make Pierogi. Not war.'
Adam and I journeyed to Zakopane in Southern Poland to partake of some pierogies and wild blueberries that I picked from the Tatra mountainside. The fiddle is central to Polish music and I got to enjoy some rousing Highlander music, along with gorgeous forest streams, cable car vistas and a horse carriage ride with the stout and sturdy driver, Stanislaw.
The highlight of this ancestral journey came as I returned to the villages where my great-grandparents lived and reunited with my Polish relatives for the first time. Prior to my arrival, Adam had conducted local research through his company Genealogy Tour and found the living lineages of the siblings who stayed. We arrived first in the village of Goscieradów, to visit the Skorupa line. Skorupa is my original surname that was changed to Shell by my great-grandfather, Jan, to assimilate and mitigate the early discrimination against Polish people in America. 
I can't describe the joy that filled my heart when I first wrapped my arms around Waclawa, my 92-year old Polish aunty. She married the son of my great-grandfather's brother Andrej. Her daughter, Grazyna (who runs the local store) and her grandchildren and great- grandchildren filled the room while we all laughed and cried at the amazement of reuniting after 100 years of familial separation.  For two days, we exchanged photos and names and stories over coffee and cakes and raspberry liqueur. I heard about Waclawa's exploits raising pigs, making and selling illegal kielbasas under Communist rule, milking cows and having a morning coffee every day with her 91-year-old boyfriend. This is a matriarch who is well-loved. 11-year-old Szymon impressed me with his English, informing me that he was a class clown and a master gamer, along with the list of subjects he was studying in the 5th grade. The Skorupas all helped to build the towering St. John the Baptist church in the early 1900s, perhaps explaining the proclivity of builders in my family. We face-timed with two of my uncles in the US. Well over fifty Skorupas are still alive and well and gather together every year for a big family reunion, so my plan is to return, perhaps next summer, and meet the rest of the clan.
Adam and I made our way to the gravesite of Antoni Skorupa, my great-great grandfather to pay my respects.  I laid down a photo of my Dad, who died in February of this year, with his father, Stanislaw, who I only met once, because he had left his family of 8 children, not to be found again for twenty years. The photo was taken by my brother, the first and only time the three generations were together. I made offerings and prayers to heal the father wounds that have been passed down over the centuries, and to bring my father and grandfather's spirits home to Poland, across oceans and time. As the wind carried the wisps of white sage up to the heavens, a deep peace settled inside my bones.
I then went to the villages of Borów and Kosin to meet the lineage of my great-grandmother Barbara and her sister, Stanislawa Zegzula. I was greeted by my other Polish aunty Danuta with the firmest, warmest hug I've ever received. She, along with her husband Jan and my 2nd cousins, Lidia, Karolina and Katarina (as well as their multitude of turkeys, pigeons, chickens, dogs and cats) all welcomed me into their home, feeding us chicken noodle soup, turkey legs, potatoes and kraut. More tears, laughter, stories, photos and sweet Polish vodka was shared.  
Just days before Adam contacted them, Lidia had a dream that a cousin would show up with two bags in hand, telling her that we would meet soon. My prophesied arrival was literally a dream come true for us all.
We went to the cemetery together to honor Stanislawa and also her husband, who was killed in a German massacre of Polish resistors and villagers in 1944. We visited the church where my great-grandmother was baptized and the land where she lived. A creek still runs through the land and I was filled with a wistful longing as I touched the trees and the flowing water that she once knew. Danuta came to me and we held each other tight, sharing tears over this ephemeral moment of memory brought to life.
I also came right in time for the local Harvest festival. Here I was heralded with an old Slavic tradition of blessing the bounty with a commemorative feast and songs. The different villages have a friendly competition, offering an abundance of food and drink, given freely to all. We wandered through the copious stalls, eating every traditional Polish food I could dream of and drinking fruity liqueurs made of peach, plum, cherry, apple, raspberry and the like. It is also a tradition to compete for the most creative altar, decorated with lavish amounts of seeds, flowers and wheat.  I got a picture of the Polish beauties who won this year's contest with their map of Poland, made of rice grains and seed.
I spent the night with my extended family, which allowed us to settle in together a little more. More cousins arrived. They showed me traditional dresses and an old spinner that turns flax into thread. I was put to work by Danuta to gather the eggs, placed in a Polish apron and told to scramble them up with bacon over the traditional cocklestove that is also the hearth. In the quiet of the morning, Danuta and I shared another tender moment, expressing our love and recognition that this meeting was bringing much-needed and long-awaited healing to our lineage. I felt Barbara and Stanislawa there with us in the kitchen, smiling softly as we hugged each other tight. 
Leaving was hard but sweet as I felt an empty place in my soul get filled up with the love of family and the power of place. Adam and I drove off, all of us waving furiously and blowing kisses, my heart grateful for the resilience, warmth and tenacity of my Polish roots and relatives.